Ramps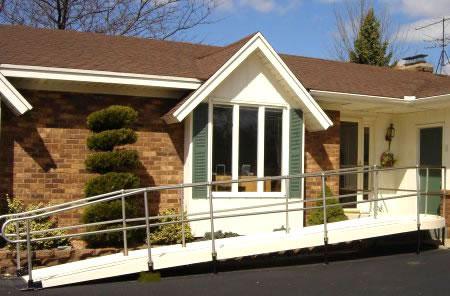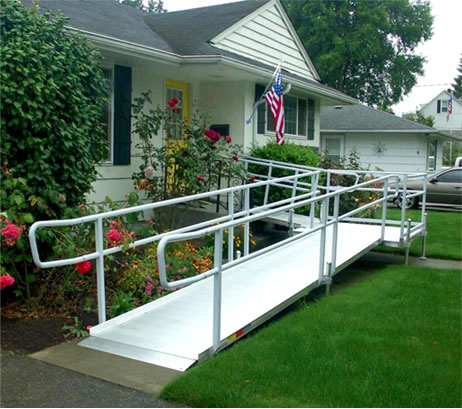 Modular Ramps are designed to address the accessibility needs of the residential market. The EZ-ACCESS Modular Ramp system is an excellent choice when accessibility needs extend beyond the scope of a portable ramp. The efficient design uses less hardware and no pre-assembly is required.
EZ-ACCESS Modular Ramps offer quick and convenient installation and removal. Made in the USA.
Features and Benefits of EZ-ACCESS Modular Ramps
Easy installation. Install a 24′ system, including handrails, in less than 30 minutes!
Sides are finished and flush, with no hazardous nuts or bolts protruding onto the usable ramp area
Configure a ramp system for almost any site
Handrails improves grip and ensures superior appearance
Ramps and platforms made of lightweight aluminum
Ramps, handrails, and platforms are pre-assembled
All components feature captured fasteners
Our exclusive "patent pending" connecting system eliminates drilling and riveting handrails
No anchoring into concrete footings or pads is required
Architecturally designed for a clean, modern appearance
Extruded skid resistant surface
Low maintenance
Integrated independently adjustable supports
36″ width
850 pound weight capacity
If you are looking for a ramp that has all the conveniences of a modular, but with the design appeal of a custom, we have the perfect solution. The unique design uses colored molded ramp sections, anodized aluminum handrails, mesh fabric and curved turn sections to set a new visual precedent for wheelchair ramps. All this at a price equivalent to a typical all aluminum ramp.