ACCESSIBILITY PRODUCTS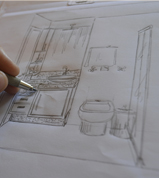 Grab Bars
All Shapes and Sizes
All Finishes: including Custom Painted Colors
Custom Configurations
Aging-In-Place Remodeling uses 6 different methods of installing bars and bath seats allowing us the flexibility of providing the strongest, most watertight installation possible
Portable Shower Grips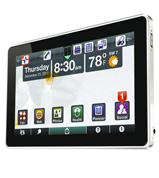 AIP Technology
According to Orlov, "'Aging in Place' is the ability to live in one's own home—wherever that might be—for as long, as confidently and as comfortably as possible. Livability can be extended through the incorporation of universal principles, telecare and other assistive technologies." Senior Care Products asked Orlov to name her Top 10 Assistive Technology Devices for Seniors.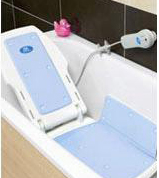 Mobility Products
Larger rear wheels have "quick release" so smaller wheels can be used
Removable cutout in seat for personal cleaning and for use with provided pail so chair can be used as bedside commode
Designed to fit over most toilets
Aluminum, waterproof construction of frame
Weight Capacity:250 lbs.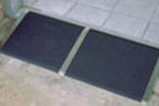 Thresholds
The Sill Ramp is specifically designed for doorways. There are holes punched in the top corners for easy installation. It is made of lightweight, durable aluminum with an anti-slip, high traction surface. Hardware is provided to secure the ramp. There are many sizes to choose from. Supports up to 600 lbs.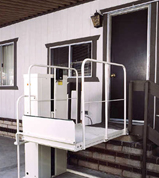 Porch Lifts
Indoor or outdoor installations
Can lift up to 50 inches
Installs in one day
Runs on household current
Virtually maintenance free
Shower Seats
All Shapes and Sizes
Mounted or Portable
Large Variety of Styles: Wood, Phenolic, Naugahyde, Aluminum
Adjustable: can be used by more than just one person
Barrier-Free Showers (Low or No Threshold)
Both ADA-Compliant and Barrier-Free
Large Variety of Shapes and Sizes Available
Many Design Options
Custom Tiled Showers also available
Walk-In Tubs
Stainless Steel One-Piece Construction with a Lifetime Warranty
Fits into Standard Bathtub Space
Options for Air or Water Hydrotherapy with Heater
Sink and Shower Faucets
Anti-Scald Devices
Automated (Motion Sensing) Sink Faucets
Wheelchair Accessible Sinks and Vanities
Easy-To-Use Shower Heads
Shower Hoses in a Variety of Lengths and Finishes
Shower Systems: Multiple Showerheads
Toilets and Accessories
ADA Compliant Toilets
Automatic-Flushing Devices
Large Selection of Seating Options
Lifts
Kitchen Cabinets
ADA Compliant Cabinets (Higher Toekicks, Lower Countertops, etc.)
Roll-Out Shelving
Cabinet Lifts
Glass Front Upper Cabinets (increases Visibility)
Bathtub Accessories
Tub Lifts
Traction Mats
A Large Selection of Tub-Mounted Handles and Rails
Kitchen Sinks and Faucets
Single Handle Control
Reduced Depth Sinks (for Wheelchair Access)
Sink and Counter lifts to Accommodate Different Heights
Easy-To-Reach Garbage Disposal Control
Kitchen Appliances
ADA Compliant Appliances
Easy-To-Reach Controls
Dishwasher Elevated for Greater Accessibility
Lighting
Additional Lighting Installed to Remove Dark Areas and Help Illuminate Transitions or Steps
Illuminated Switches
Lower or Raise Switches for Easier Accessibility
Increase Natural Light Sources: Install Windows, Skylights, Solar Tubes, etc.
Automated Lighting Systems
Motion Sensors: Interior and Exterior
Electrical
Raise Outlet Heights
Additional Outlets at Front of Cabinets
Larger Electrical Panels (or Sub-Panels): Accommodates New Appliances, Medical Devices, Lifts, etc.
Generators: Back-Up Power in Case of Black Out
HVAC
Automated Thermostats
Whole House A/C Units and/or Single Room Units
Programmable Whole House Fans
Ceiling Fans w/ Remotes
Plumbing
Anti-Scald Devices
Water Heaters
Foot Pedal Operated Faucets
Flooring
Installation of all Types of Flooring
Anti-Slip Coatings
Backer Pads: Secures Rugs from Moving
Step Highlighting
Ramps
Fixed and Portable
All Sizes
Custom Built to Site Specifications
Small Ramps for Door and/or Shower Thresholds
Railings
All Sizes and Shapes
Custom Fabrication Available
Interior and/or Exterior
Wood or Metal
Doors
Door Widening Hinges
Pocket Doors
Automatic Door Operators
Easy-To-Use Door Handles and Locksets
Lifts
Patient Lifts
Stair Lifts
Cabinet and Appliance Lifts
Elevators
Tub Lifts
Pool and Spa Lifts
Security
Caregiver Cameras: be able to view what is happening in the house from any computer
Door Cameras: see who is at the door from your computer on closed-circuit television
Variety of Door and/or Phone devices for Sensory Impaired
Trip/Fall Alarms
Medication Reminders
Landscape
All Phases of Landscape Work
Synthetic Lawns
Low or No Maintenance Landscapes
Pathway Lighting
Concrete Walkways