Mobility Products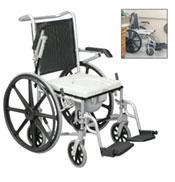 All-In-One Shower/Commode/Companion/Wheelchair
An excellent multi-purpose chair that can be adapted for a large variety of needs. Aging-In-Place Remodeling often recommends this chair for bathing purposes once we have installed a new roll-in shower for our clients.
Larger rear wheels have "quick release" so smaller wheels can be used
Removable cutout in seat for personal cleaning and for use with provided pail so chair can be used as bedside commode
Designed to fit over most toilets
Aluminum, waterproof construction of frame
Weight Capacity:250 lbs.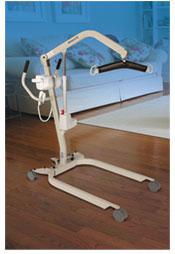 BHM Graduate Hoyer
The Graduate is compact in design but has the power and range to handle almost any lifting requirement. Specifically designed for the home care environment.
Control lifting from handset or deck-mounted buttons
Foot-pedal can adjust base to provide proper spacing to fit around seating or legs
Removable battery pack can provide up to 100 lifts on a single charge
Weight Capacity:350 lbs.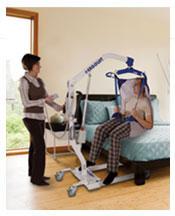 BHM Ergolift II / Ergolift 600
A high-quality, reliable, floor lift that has an ergonomic design which makes it easy to maneuver but can lift up to 400 lbs. The Ergolift II has the capacity and features to be the ultimate floor lift for home use. The Egolift 600 is packed with the same features but has a 600 lbs. capacity and is designed to be used in conjunction with bariatric seating.
Control lifting from handset or deck-mounted buttons
Foot-pedal can adjust base to provide proper spacing to fit around seating or legs
Removable battery pack can provide up to 100 lifts on a single charge
Egrolift II has 400 lbs. capacity and Ergolift 600 has 600 lbs. capacity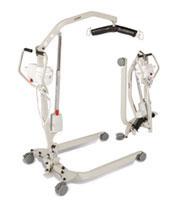 BHM Junior Hoyer
The Junior can handle all conventional lifting situations but can then be folded up for storage under a bed or behind a door. This lift is the ideal solution for those looking for the features of a full-size lift but with the convenience of a compact unit.
Collapsible for easy storage
Easy-to-use handset control
Slimmer design fits into tighter areas
Weight Capacity:350 lbs.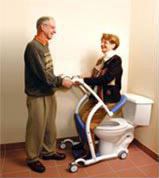 BHM ErgoStand / MiniStand
The ErgoStand represents the safest and most efficient manner in which to dress, clean and transfer patients. The ErgoStand assist patients in the act of sitting, standing and is particular helpful around the toilet area. Use of the ErgoStand is for patients who have some physical strength but need additional support. The MiniStand is similar to the ErgoStand but is more compact and better suited for tighter locations.
Handset controls
Removable and rechargeable battery pack
Non-slip footrest
ErgoStand has a 400 lbs. capacity and the MiniStand has a 350 lbs. capacity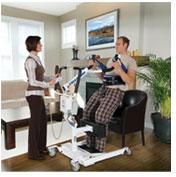 BHM EasyMove
EasyMove allows a greater level of independence for individuals in their own home while helping to reduce caregiver strain. The EasyMove is a seated support aid that helps patient's that have the ability to stand but need assistance maneuvering around their home. The EasyMove allows patients to be situated directly over a chair or toilet for easy transfer, as opposed to a wheelchair where an often difficult lateral transfer is necessary. The EasyMove has a weight capacity of 255 lbs.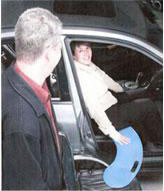 Curved EasyBoard
An ergonomically designed high-performance transfer board that will meet the transfer needs required in the majority of situations. Its unique shape and distinct features makes the EasyBoard particularly suited for individuals to use without assistance.
Tapered ends for easier, safer entry/exit
Lightweight: board weighs just 3 lbs.
Two built-in handles: easy to transport and position
Has an anti-slip pad located on the bottom end of each side
30″ in length
Weight Capacity:600 lbs.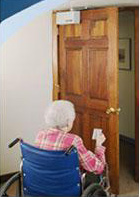 2300 Residential Automatic Door Opener
 An automatic door opener can greatly increase an individual's level of independence in their own home. Homeowners who use walkers, wheelchairs, or have difficulty with the dexterity required to operate a door will find automatic door openers to provide the assistance needed. With the push of a button the door will open and close, while still allowing the door to be operated manually.
Fits almost every type of interior or exterior door
No modifications to door or frame
Plugs directly into household current
Wireless remotes (like a garage door opener) available
Adjustable timer holds door open from 1-30 seconds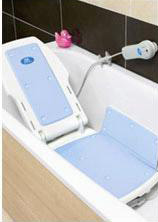 Sterling Reclining Bath Lift
Anyone who has a difficult time getting down into their bathtub to have a soak and doesn't want to remodel their bathroom will want to know about a bath lift. These lifts gently raise and lower in order to comfortably take its user from the top of the tub down to 2.5″ off the tub floor. Once in the lowered position the bather can choose from the reclining positions of 10, 35, or 45 degrees. The lift is powered by a rechargeable battery inside the easy-to-us, waterproof handset. When in the raised position the seat has flaps that fold out and rest on tub ledge and allow for easy, seamless transferring into and out of the bath lift seat. The bath lift mounts to the tub floor securely with suction cups but can easily be removed to allow for other bathtub users.
Can lift from 2.5″ to 17″ in height
Handset can be removed from lift and be charged remotely (similar to a cell phone)
Portable: unit can be folded compactly and stored easily
SmartSensor: will not allow lift to be lowered if there is not enough charge to also raise unit
Weight Capacity:285 lbs