Thresholds

Threshold Ramp:
The EZ-Access Modular Threshold ramp is a lightweight yet durable free-standing ramp designed for doorways, sliding glass doors and raised landings. The modular design, with its interchangeable components, easily accommodates thresholds from ¾" to 6" high. This seam-free ramp is 34" wide and ideal for use with wheelchairs, walkers, and cane users. It is made of anodized aluminum and is intended for indoor and outdoor use.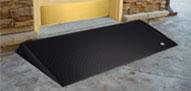 Rubber Threshold Ramp: 
Simply place the Rubber Threshold Ramp in front of the door to provide a smooth ground-to-sill transition. This slip-resistant ramp is designed to be used on any surface and can easily be trimmed or notched for a custom fit.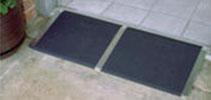 Threshold Sill Ramps:
The Sill Ramp is specifically designed for doorways. There are holes punched in the top corners for easy installation. It is made of lightweight, durable aluminum with an anti-slip, high traction surface. Hardware is provided to secure the ramp. There are many sizes to choose from. Supports up to 600 lbs.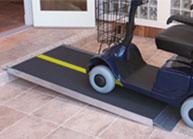 Pathway Ramp:
The Pathway Ramp is a secure solution for temporary or semi-permanent home access.
The ramp features a solid, seamless design, making it ideal for use with scooters, wheelchairs, and walkers. This ultra-strong ramp provides the safety and strength required while remaining lightweight and portable. There is no assembly or folding required. Simply position the ramp and it's ready for use. It features an applied skid-resistant surface and a self-adjusting bottom transition plate for easy conversion from ramp to ground. The ramp is manufactured of welded aircraft-grade aluminum.

Suitcase Ramp: 
The Suitcase Ramp is easy to use. Simply unfold the hinged ramp and position accordingly for maximum safety and support. Its single-fold design sets up quickly and folds in half lengthwise to be carried like a suitcase when not in use. Features a convenient handle and extruded, non-skid driving surface. It is made of aircraft–grade aluminum.